Art Curriculum
Our art curriculum is divided into 6 strands; painting, printing, textiles, 3d, collage, textiles and digital media with drawing running throughout the year.
We like to link art with our topics and all areas of the curriculum. Our display boards in the hall show how we linked art with maths. We learnt how to make shades of colours and then created wonderful displays using different shapes.
As part of our 3D work this term, the sculptor Neil Wood, came into school to work with the children in Year 4 and Year 5. He brought with him a selection of small sculptures and slides of how he produced some of his large works of art.
The Year 4 children used clay and plaster of Paris to make relief plaques with a Mayan theme.
The Year 5 children who are currently studying "The Vikings" produced Viking shields and swords using plaster of Paris.
The children thoroughly enjoyed their day working with "a real live artist" and produced some fabulous work.
Year 4 work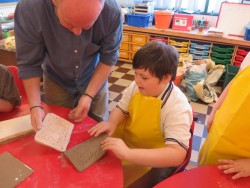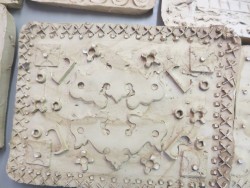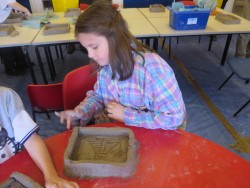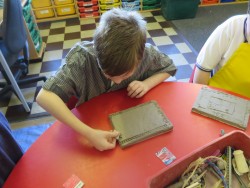 Year 5 work